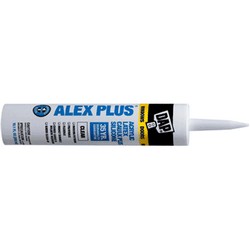 Brand Name: DAP Alex Plus
*Caulk Sealant Material: Acrylic Latex
*Product Type: Caulk
*Color: Clear
*Container Size: 10.1 oz.
*Permanently Flexible: Yes
*Packaging Type: Cartridge
*Curing Time: 30 hr.
*Fire and High Heat Resistant: Yes
*Paintable: Yes
*VOC Level: Low VOC
*Indoor and Outdoor: Indoor and Outdoor
*Coverage: 55 linear ft.
*Mold and Mildew Resistant: Yes
*?Caulk applies white, but turns clear once cured. May take up to 7 - 14 days for full cure to clear.