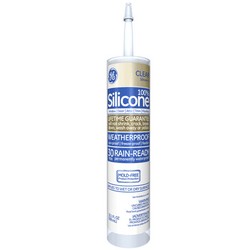 Brand Name: GE
*Caulk Sealant Material: 100% Silicone II
*Product Type: Sealant
*Color: Clear
*Container Size: 10.1 oz.
*Paintable: No
*Fire and High Heat Resistant: Yes
*Packaging Type: Tube
*Coverage: 50 linear ft.
*Application: Window and Door GE Silicone II Window & Door, develops strength and adhesion quickly so it can be exposed to water in as little as 30 minutes. GE Silicone II can decrease the waiting time, helping increase convenience, speed, and efficiency. Extreme heat, the sun's UV rays, and freezing temperatures can cause acrylic caulk to lose its flexibility and degrade. GE Silicone II Window & Door's permanent flexibility keeps it from breaking down so it can protect a home joints expand and contract.